Francisco DeCun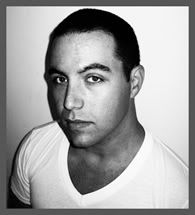 Francisco Decun plays the drums and sings and is the heartbeat of Run Run Run. He plays every instrument, writes, produces and arranges and spearheaded the band's current recordings, taking Rx3 into his garage in North Hollywood and creating their new repertoire. In 2012 he started work on his own solo project called TRU CISCO. He sings lead as well as does all the writing, playing and producing.
Francisco (or Cisco as we call him) was raised in Puerto Rico and Miami. Always interested in the arts, he excelled at both drawing and music. Today he has a heavy hand in both producing the music and the graphic design of RUN RUN RUN. His first band in Miami was the indie/pop-punk LOCAL STORY with bassist Nic Speck. When they relocated to Los Angeles, they each eventually found their way to Rx3. Once they put their Florida stamp on the band, Rx3 had finally found their sound and hit the road full time in 2007, with Cisco as the driving force.
Francisco loves Family Guy. But… he also, loves Superman. Everything else comes after these two things, but they include the DeCuns, drawing, sketching, graphic design, writing/recording music, romance, philosophy, eating, laughing, learning, and often walking around with no shoes or shirt on.