Unplugged on the Sunset Strip!
// June 26th, 2013 // Shows
July 18 2013 – Run Run Run will perform an unplugged set at this Summer's hot spot Sunset Strip Market on the world famous Sunset Strip in West Hollywood.  Also performing will be band members Xander Smith and Tru Cisco as they start things off with short sets of their newest solo material.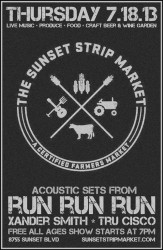 Come hang!